Last night I finished a book.  It was a good, love story . . I'll do a review of it later.  Not too long ago, I wrote about our joint Kindle account and all the crazy titles that I find in there.  So, it's past my bedtime but I need to read for a little while before going to sleep so I was on the Amazon account, looking to see what I could download.  Since getting the new Kindle, I haven't had the wifi turned on much so most of my newer titles aren't in there yet.
Vince is sound asleep.  Speck is in the chair next to me sleeping.  I'm casually going through the list of books in our account and trying to decide what I want to read next.   I find this!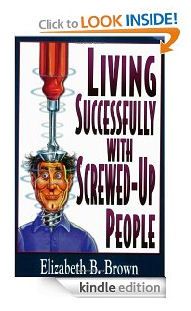 Huh?  Screwed Up People?  Living Successfully with Screwed-Up People?  I look around this house.  Only two of us live here.  It doesn't say "Working Successfully with Screwed-Up People" or "Shopping with Screwed-Up People" . . it says Living with Screwed-Up People!
There are two ways to look at this.  (1)  He thinks I'm screwed up or (2) He knows he's screwed up and he thinks I should read this book.  Somehow, I'm thinking it's Option #1.
He's already asleep.  Do I wake him up and have a discussion about this?  Not a good idea.  I'm not that screwed up!
Always trying to be the optimistic one, I thought . . maybe I ordered the book.  Maybe someone told me it was a funny book and I ordered it so I looked at the list again.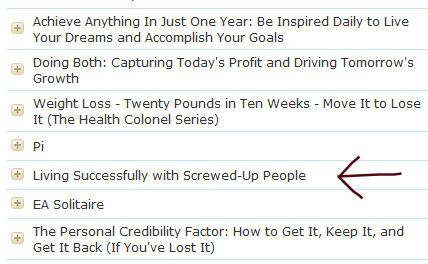 Look at those titles!  I can assure you that not a single book on this list is of interest to me except maybe "Living Successfully with Screwed-Up People" because if he thinks I'm screwed up . . well, he's really screwed up!
I think tonight is a good night to go to bed reading a magazine and forget about downloading something for the Kindle.
Do you think I'm screwed up?  Wait . . don't answer that.  I'll just go out in the morning and ask the chickens what they think!