Those friends of mine!  They've definitely challenged me and I'm winning!  I should take the Gold in the Christmas Town Sampler category, don't you think?  Have you seen Sheryl's block?  Even if you aren't doing the CTS, click on that block and look at all the pieces!  Is there any reason you can see for a friend to cause a non-applique friend to have to do all those pieces?
Only one thing to do . . stop whining and get busy!
It's a good thing I don't know what I'm doing or I'd probably scare myself half to death with this block.  All the Kit Kats got consumed (there were only 6 and they were the smaller ones . . not the mini ones but not the big ones either) so I had to resort to Blue Bell Red Velvet Cake ice cream to get me through this block.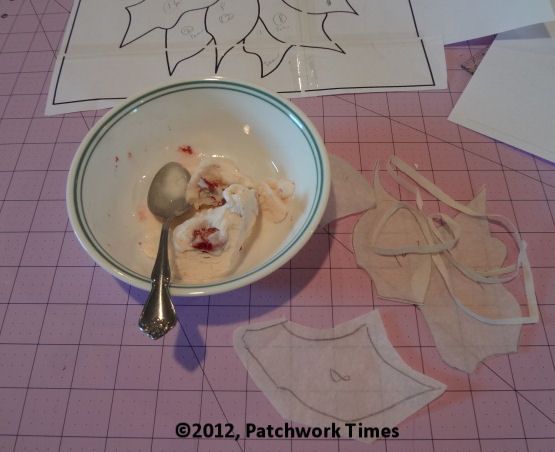 Thank you Blue Bell!  I couldn't have done it without you!
I did cheat just a little!  Oops . . that might preclude me from winning a medal in the Christmas Town Sampler competition.  (There is no competition!)  Don't tell Sheryl but for the cyathium, she has about 100 little circles.  Individual circles.   I just cut mine as one piece and I'll make circles with the thread when I'm quilting. Yep, I cheated but don't you think my poinsettia is just gorgeous?
Thank you Sheryl . . except for all those little circles in the middle.  I wasn't real thankful for those!