I'm an overprotective mom.  Just ask Chad . . he'll be more than happy to tell you how horrible it was living with me!  My chickens would say the same thing.  There are hawks and owls and coyotes so we keep our chickens penned up in a secure pen with a cover over it . . safe and sound! I'm so afraid something is going to get them if they're out.  Last week, we decided to let the black chickens out.  There are three roosters and three hens so if something should get one or two of them, maybe it would be roosters and that would save us the trouble of having to do something with them.  With the grasshoppers taking over, we figured we'd put the black chickens to work and we let them out to munch on the grasshoppers.  Chickens are so funny.  They were scared to death to leave the secure area of the fence. Vince created easy ways for them to get out and back in the pen if they were having to run back to the coop for security.  Each day they wandered a bit farther from their coop.  Yesterday, which is about their fifth day of being out, they crossed the driveway and went into the pasture where the cows are.  The cows weren't there at the time but I wonder what the chickens are going to think about the cows and vice versa.
Here's a rooster over by the side of the house .. looking for grasshoppers just like he's supposed to be doing.  Look at him . . he's really busy!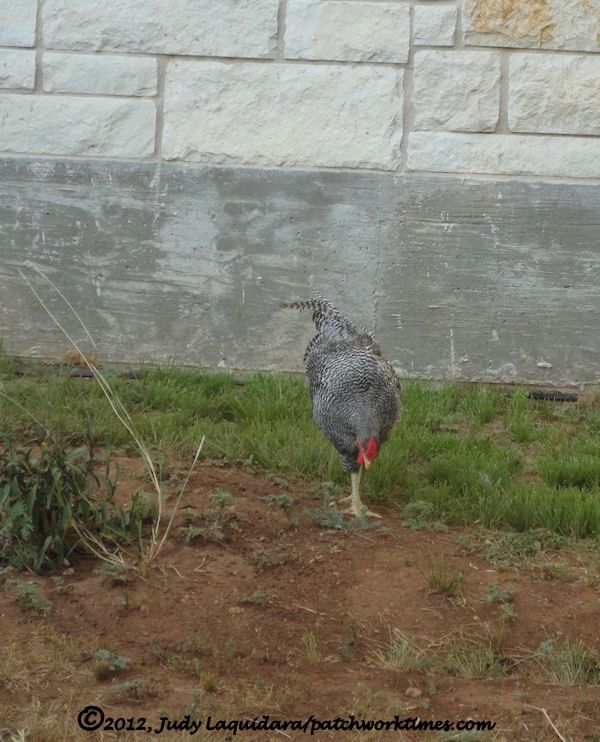 I love seeing them roaming the yard . . without a care in the world.  These Dominique chickens have not been friendly at all but now that they're running loose, they're much friendlier.  I can't pet them but I can walk right up to them.  In the pen, they would never have turned their back on me . . they were always watching me and they were ready to run if I got too close.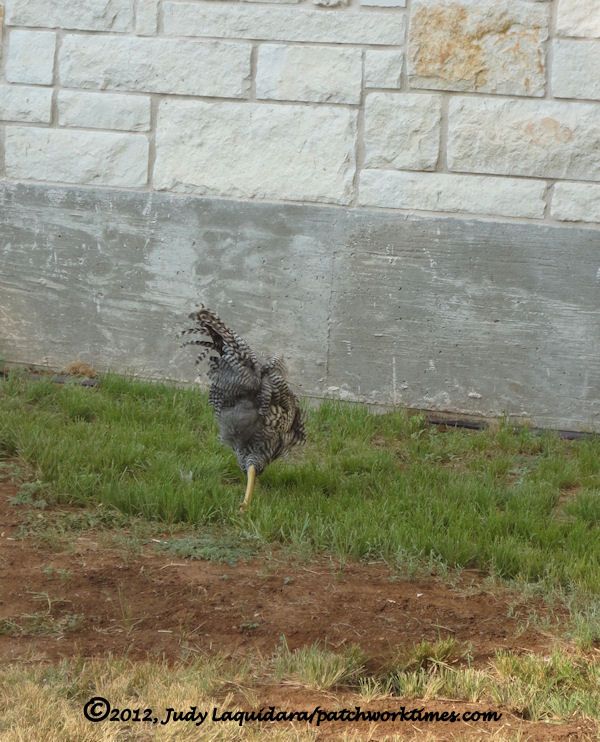 They're working so hard to catch all the grasshoppers but . . wait . . where are they going?  Suddenly he forgot about the bugs and took off running.  Look at him go!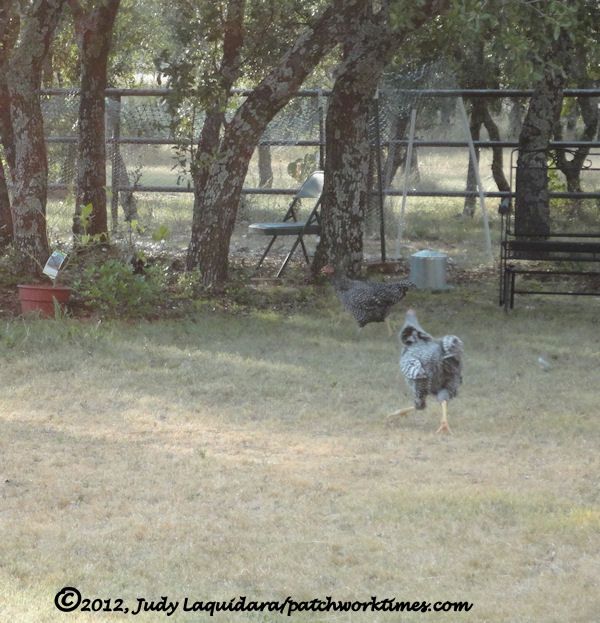 Oh!  I see now  .. Vince has a food bucket and they know what he will do.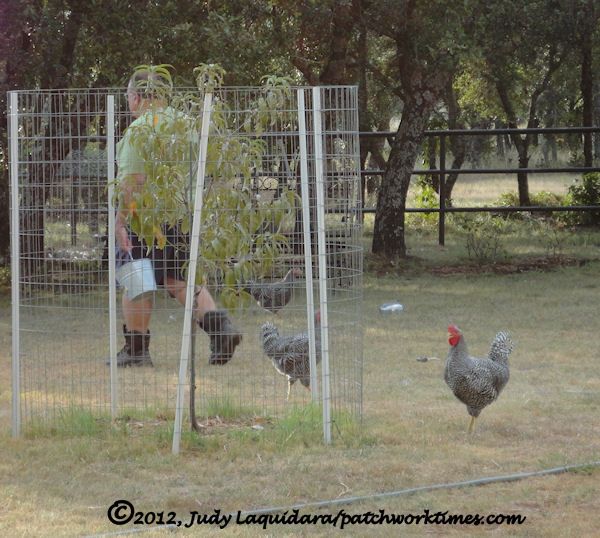 He will put the bucket down and they will gobble up what's left in there . . even though they have plenty of food in their run, as well as inside their coop.
Eating food out of the bucket is so much easier than chasing down those crazy grasshoppers.
But why share a food bucket when there's another bucket sitting over there by itself?
Looks like hunting grasshoppers isn't a big priority with these chickens . . especially when there's easy to get food sitting around!