This morning I mostly piddled around in the sewing room and the yard and then Vince took off at noon and we went to a few places he had been wanting to go down south of here.  He loves San Saba and wants to try to find a place on the river there.  Good luck with that, huh?  Finding anything on the water isn't easy most places. 
When we got home, I went straight to take a nap and slept 2-1/2 hours.  The last two nights I hadn't gotten much sleep and it caught up to me.
Once I was awake, I got two baby quilts quilted.  Both are use and abuse type quilts.  The first is the one made with the owl fabric.
For the first time, I used Minkee for the backing.
It wasn't hard to use, didn't have any problems with it stretching but even with a lightweight batting, this is not a quilt for a newborn.  It's pretty heavy.  I think it will be good if they want to put the quilt on the floor and let the baby lay on it once she's a few months old and then it will be good for dragging around in the car on those cold Missouri days. 
I quilted it with just a quick meander. 
Then I did this one and didn't use any batting in it, just the Minkee for the backing.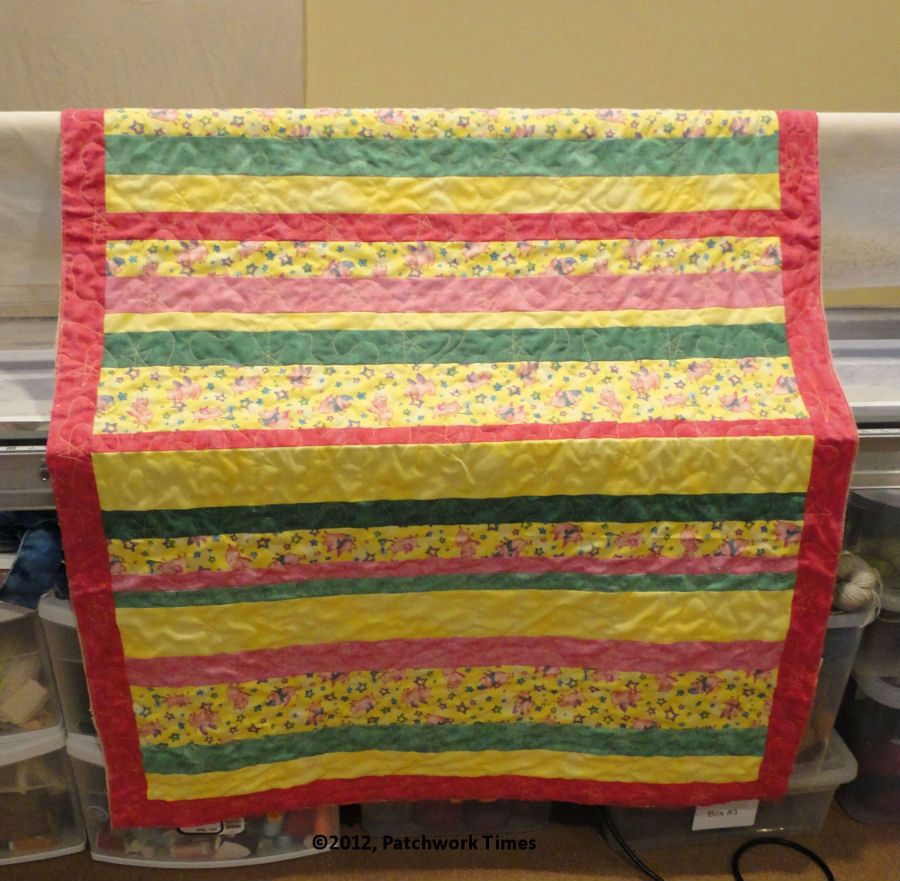 I'm not sure I like how that feels without batting but I'll wait til after it's washed before deciding if I'll do that again.  It's a better weight for now but it looks kinda deflated without batting.
I had the Minkee scraps in the trash when Vince came in.
I knew exactly what he was going to do.  He loves going through the trash to see what treasures I've thrown out.  He picked up the pieces and felt them and wanted to know about it.  I showed him the back of the owl quilt and his response was just what I expected . . Will you make me something with this?  Maybe . . it depends on his behavior the next few months! 
That's it for today.  I'm heading to the house to try to get a bit of knitting done.  Camp Loopy may end before my project is done!