You should see cows!  They're as chicken as chickens are.  This morning I was out having a discussion with the cows . . telling them how happy I am that they come to visit me every morning.  It can get lonely out here in the middle of nowhere and Adalina is all the way in MO and I haven't got to meet her yet and well, it's just kinda sad and it's nice to have visitors to help pass the time.  They were listening to my every word, not giving any advice but just being good listeners, and all of a sudden, their attention turned from me and they were no longer interested in anything I had to say.  They were staring back towards the house!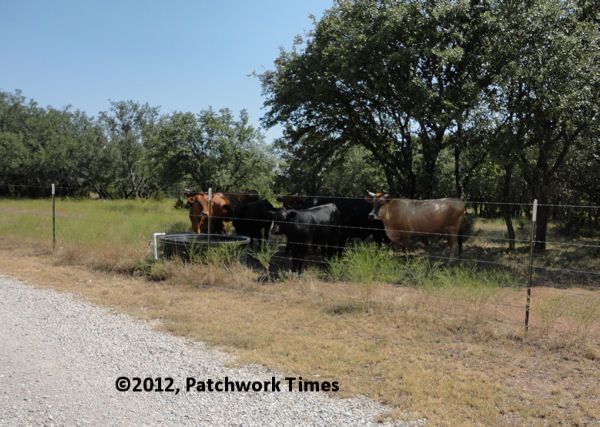 I couldn't imagine what was so much more interesting than my discussion with them so I turned and saw this . .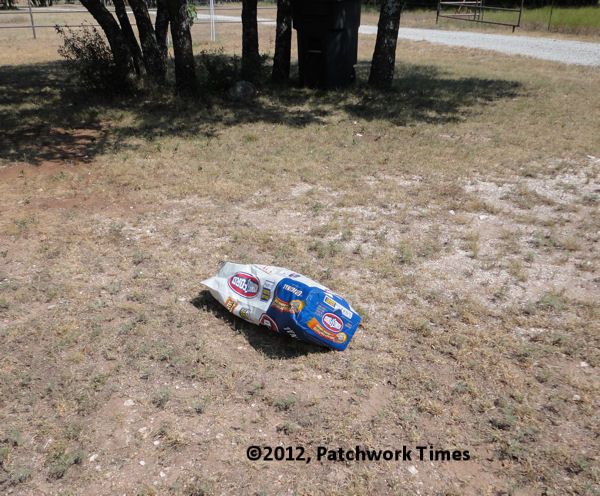 An empty charcoal bag had blown off the porch.  Scared the bejeebers out of them.  I'm not sure they were scared of the empty charcoal bag or if charcoal makes them think of the grill and the grill makes them think of steaks and . . well, you know what that might mean to a cow!
What this picture means to me is . . there's a whole lot of dead grass underneath that charcoal bag and I sure wish we could get some rain!!