Anyone who's been around me much at all has probably heard me say that I do not like chocolate.  Vince laughs every time he hears me say it because he knows I do like some chocolates.  I'd push small children out of the way  for a Kit-Kat or a Reese Cup.  I can easily pass up plain chocolate candy, hot chocolate, chocolate ice cream, chocolate cake and especially chocolate ice cream.
A few weeks back we were out of town and came across Chocolate Sesame Cookies.  I said "No, thanks.  I don't like chocolate."  Vince said "Oh, right!"  He tasted one and said "You HAVE to try these" so I did and they were so good.  I came home and began searching the internet for the recipe and it's all over the internet.  I'm always so surprised when something seems so common and I've never heard of it but these Chocolate Sesame Cookies are easy to make, easy to make ahead and definitely not weird but different enough that folks will notice they're not just a plain chocolate cookie.
The batter is a bit runny when you first make it because of the melted chocolate so you must refrigerate it before baking the cookies.  Often when recipes say "refrigerate one hour before baking", I don't bother but with these, it is necessary.
I make up the batter, stick it in the fridge and bake a dozen or so at a time.  You know fresh, warm cookies are always better than day old cookies . . though day old cookies are better than no cookies!  The batter will keep at least a week in the fridge.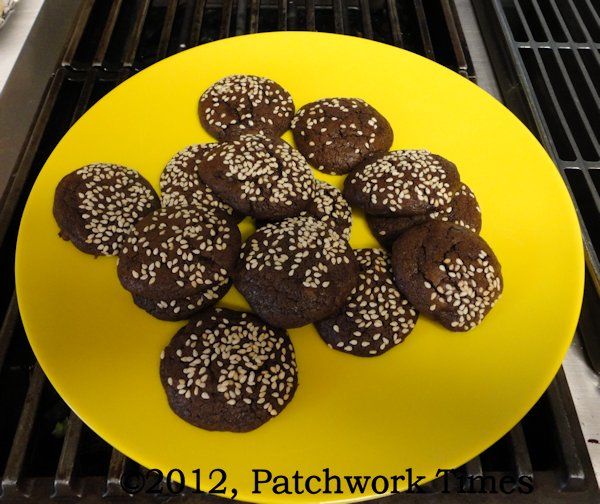 Chocolate Sesame Cookies:
Ingredients:
8 oz. semisweet chocolate (can use squares or chips)
2 T. unsalted butter
3 T. Tahini paste
2/3 cup all purpose flour
1/2 tsp. baking powder
1/2 tsp. salt
2 eggs
1 tsp. vanilla extract
3/4 cup firmly packed brown sugar
1/4 c. toasted sesame seeds
Directions:
In a double boiler, melt the chocolate and butter together.
Remove from heat and stir in tahini paste.
In a small bowl, sift together flour, baking powder and salt.
In a mixer bowl, beat the eggs til fluffy.  Add the vanilla and brown sugar and mix til well blended.
Add flour mixture and chocolate mixture to the egg bowl.
Mix til all ingredients are blended.
Place in fridge til thoroughly chilled . . a couple of hours or even overnight is fine.
Scoop about 1 T. of dough, quickly roll into a ball and roll in sesame seeds. Note:  I find that rolling the entire ball in sesame seeds makes the cookies almost too "sesame seedy" so I only dip the top of the cookie dough ball in the seeds.
Line a cookie sheet with parchment paper or a baking sheet.
Place the cookie dough balls about 2″ apart on the cookie sheet.
Bake in 350º oven for 10 – 12 minutes.  The tops of the cookies will crack and the bottoms will be firm when the cookies are done.
Allow the cookies to sit on the cookie sheet for 3 – 4 minutes, then remove to a wire rack til cool enough to eat.