Home is where I love being but I'll tell you . . some of the appeal of being home isn't there anymore after spending time with Chad, Nicole and Adalina.  I guess all grandparents experience this and it's kind of a mixed feeling.  I don't want to be so close as to interfere with their lives and there are some things grandparents don't need to know but 10 hours between us is just too far.  The trip there didn't seem nearly so long as did the trip home, and I spent the night in Tulsa coming home and drove straight through on the way.  Makes no sense to me but I was beginning to believe I'd never make it home this afternoon.
For those who mentioned having them move here  . . as much as I'd like to think this is where we'll stay, I wouldn't bet money on it.  There are few jobs in this town . . I suppose that's pretty much the way it is with most towns these days.  There's no reason for Chad to come here to try to find a job.  He wants to end up in Louisiana and he's trying to get a job there.  If he does, that will make it easier on me . . I can go to Louisiana and see everyone in one trip.
This evening was cool . . the first cool evening since we got our patio furniture.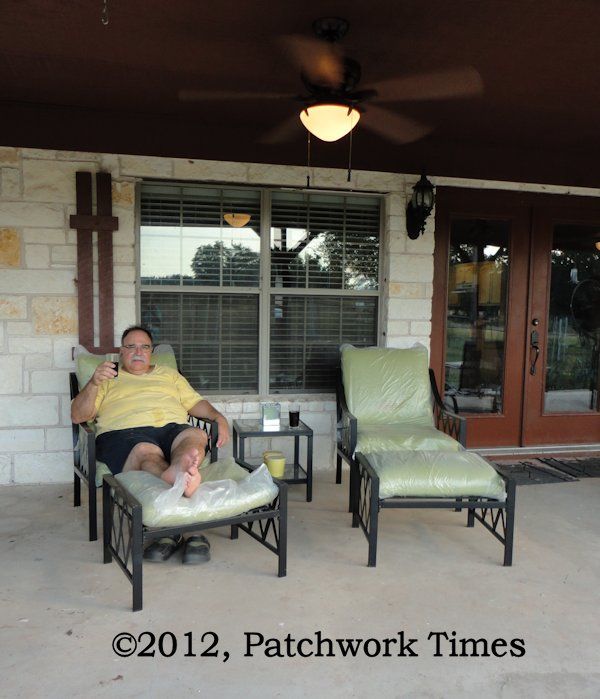 When we moved in, only two of the four ceiling fans worked.  Vince took them apart, found they needed new capacitors so he ordered those and fixed them all and now they work like a charm . . much better than buying and installing four new fans/lights.
So, on my first night, we spent an hour or so on the porch, discussing the events of the past week and enjoying a glass of wine.  Life is good!  I'm glad to be home . . glad to get to sleep in my own bed but I sure miss the kiddos.