One of my prettiest hens is mean as a snake!  I don't know what's wrong with her.  Vince wants chicken stew this weekend and I told him no . . give me a few days to try to rehab her.  Lucky for her, he doesn't know which one is the mean one or she'd probably be history already.  Yesterday, she grabbed my hand and would not let go.  I was using my right hand to hold the egg door open and couldn't shake her loose off my left hand.  She drew blood and the more I twisted my hand to try to get loose from her, the more my skin was tearing.  It was really just a scratch . . not nearly as bad as it sounds but  . . why is she acting that way?
This morning while gathering eggs, she came out of nowhere and grabbed my right hand and drew blood again.  Maybe I need heavy duty work gloves to go out there and gather my eggs!  So far, she doesn't seem to bother the other chickens . . but if I see her bothering them, she's definitely history.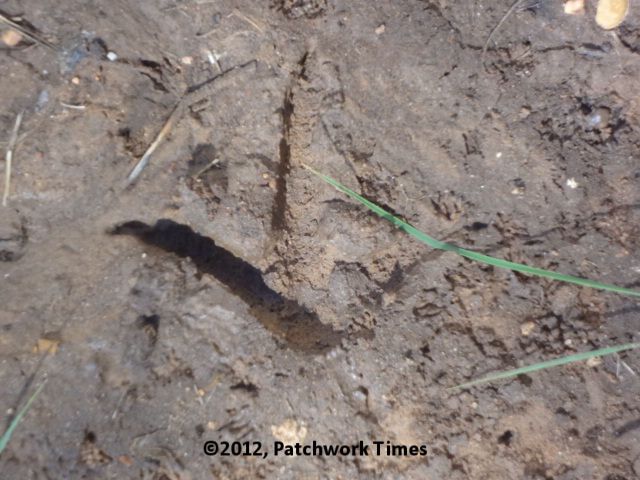 I had watered the foundation yesterday so the ground around the house was damp and soft.  Vince and I were out walking around and saw this.  He said "WHAT'S THAT?" and then we realized it was from one of these guys.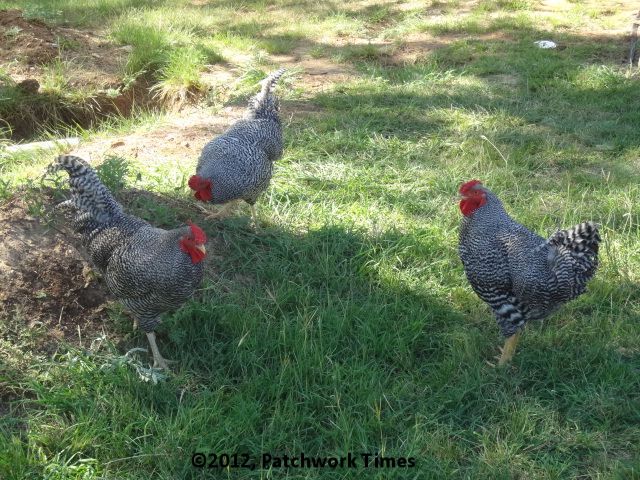 I love seeing these chickens running around the yard . . unless they're looking like they want to kill me.
Does he look evil?  Yes, he knows I'm scared of him.  I never go on their side of the driveway without a big stick.  Look at his pretty rose comb.  I wish the Dominique hens were better layers.  I'm keeping at least one of the roosters to see if I can get Dominique babies.  For now, the three roosters and the three hens seem to be getting along fairly well.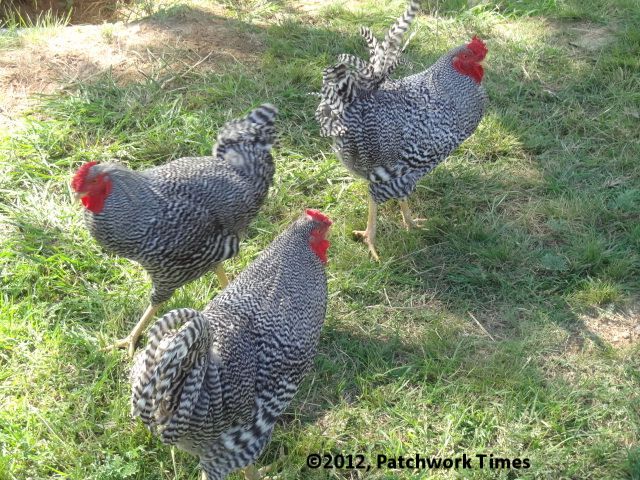 The three roosters are always together . . I think they're conspiring about how to get me.  There are three of them and I only carry one stick!  They don't know what else I'm usually carrying that they don't see!