What do you think of when you think of sprouts?  Mostly bean sprouts? Healthy folks buying all their organic produce at Whole Foods?  Plump grannies addicted to Blue Bell Red Velvet Ice Cream? 
Once upon a time, I had no interest in sprouts.  I thought of them as tasteless, most often kinda slimy in the plastic containers at the grocery store, with yesterday's date as the expiration date because not many folks bought them.  But several years ago I decided, for some strange reason, to sprout some lentils.  I put them in a salad and they were fresh and crunchy and nutty flavored.  I liked them a lot!  Then I put them on a sandwich and they were fresh and crunchy and nutty flavored and I loved them.
Those first lentils were sprouted in a Mason jar with a damp paper towel.  Each day I would take out the paper towel and put in a fresh one and dampen it.  The beans sprouted just like they were supposed to.  Then I got a sprouting jar which was simply a Mason jar with a crew on plastic lid with holes.  Water was added to the jar, it was swirled around just a little and the water was drained, simply to keep the sprouts damp with fresh water.  Those beans sprouted just like they were supposed to also.
During the summer, I don't do a whole lot of sprouting.  We have all kinds of greens, peppers, cucumbers, etc. from the garden to put into our salads and on our sandwiches.  But during the fall and winter, when fresh veggies for the salad and sandwiches aren't always easy to find and aren't always reasonably priced, my sprouting kicks back up into high gear.
Last week, while ordering other supplies, I found a multi layered sprouting container.  Yesterday it arrived and I couldn't wait to get it loaded up.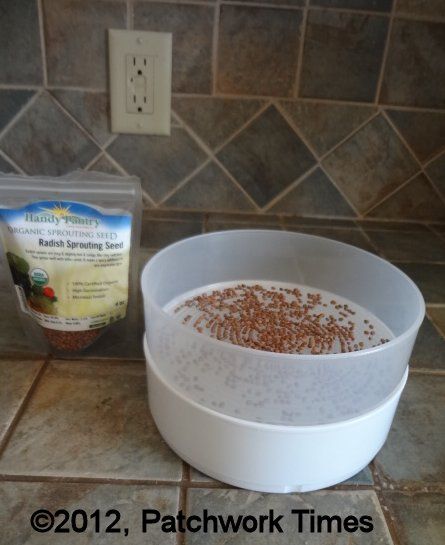 Into the first layer went radish sprouting seeds.  Radish sprouts taste like radishes!  They're spicy . . with a bit of a bite!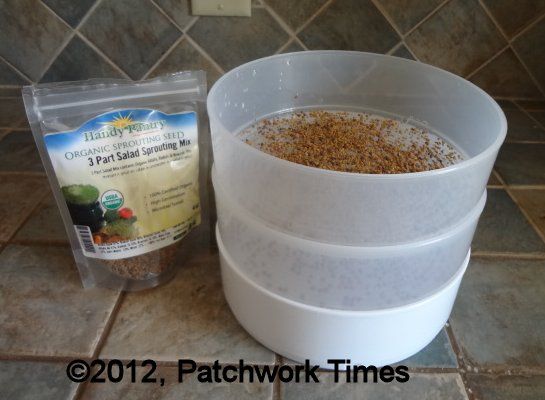 Into layer 2 went a 3 part salad sprouting mix.  This mix contains radish, broccoli and alfalfa.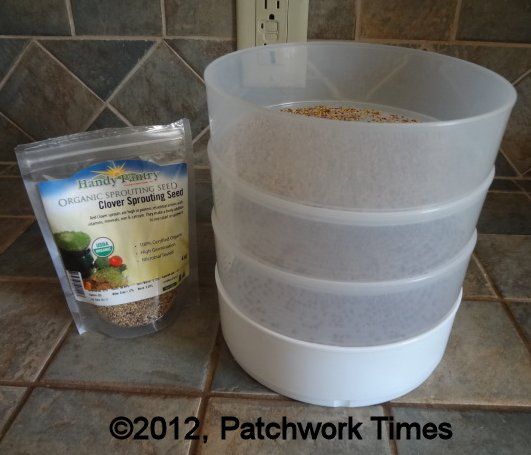 Into layer 3 went clover sprouting seed.  Clover sprouts are sweet and mild and I really just feel the crunch but don't necessarily notice a distinctive taste with these sprouts.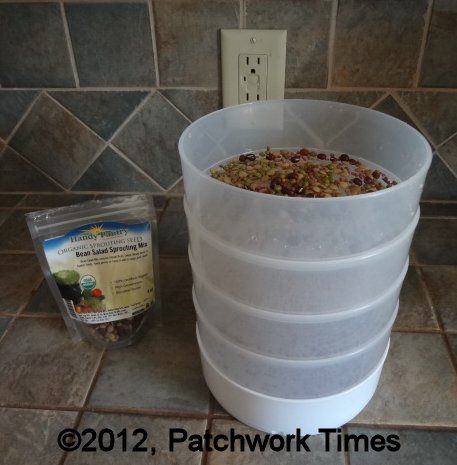 Into the top tray went a bean salad sprouting mix.  These are larger sprouts . . the kind I've typically seen in the grocery store.  In this mix are adzuki and mung beans, green lentils and radish.  Yep, I love radish sprouts.
Once the seeds have sprouted, they will almost fill each tray.  These little packets of sprouting seeds go a really long way!  The seeds will be kept moist and in 3 or 4 days, we'll have plenty of sprouts for salads, sandwiches and snacks.  Even the chickens will be happy to get a few sprouts.