The cost of materials is kinda like gaining weight.  It all goes up in small increments and you never notice til one day . . you notice! 
This morning Vince found a 60% off coupon for JoAnn's.  He was so excited til he noticed that it was in store only so . . being the bargain hunter that he is, he decided to look for an online coupon and found a 50% off coupon.  He asked if there was anything I needed.  No!  I don't need anything!  Are you sure . . it's 50% off one item?  No, really.  I have enough of everything to last me a very long time. Then he said . . what about batting?  Are you kidding?  For the past 15 years, I so often hear him moaning about how much batting I have around here.  Then I realized he had his credit card out.  Technically, anything to do with quilting or myhobbies, I'm supposed to pay for with my hobby fund but if he had his credit card out, yes, thank you . . I do believe I could use a roll of batting.
I almost had a stroke when he clicked on the Warm & Natural batting.  The regular price is right at $450 for 40 yards. With the 50% off coupon, I got it for $225, which is about what it would have been to buy it wholesale
While we're not comparing apples to apples, I found a Hobbs invoice from 2001.  Know what I paid for a 30 yard roll of 96″ Hobs Heirloom 80/20 back then?  $88.50.  That was wholesale and it was for 30 yards where the Warm & Natural has always been a little more and it's put up on a 40 yard roll but that's still a big difference.
There's plenty of batting around here and every bit of it was purchased on sale or wholesale when I was quilting for others.
This is the roll I'm currently using.  It's Mountain Mist Gold, which is 50/50 (cotton/poly).  There's probably enough left on this roll for three quilts.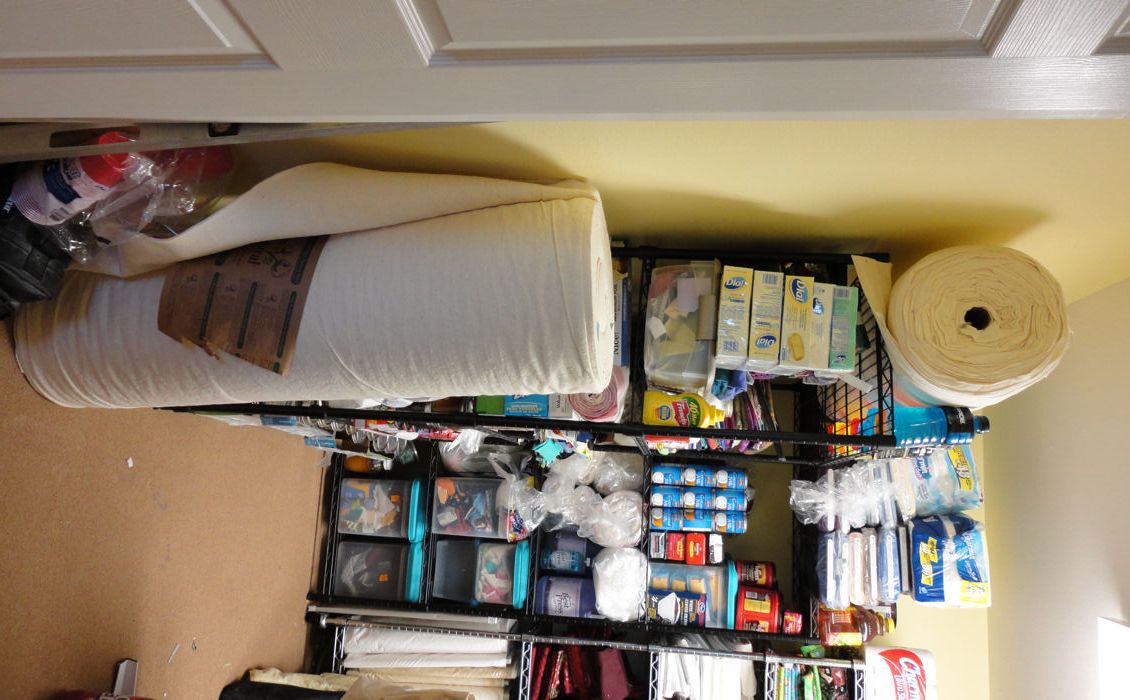 Both of these are Warm & Natural.  Since I make mostly QOV or other donation quilts that are in the 60″ x 80″ size range, if I make 20 of those quilts and I cut 70″ off the roll for each quilt, that's 1400 inches and there are 1440 inches on a roll so that leaves about 40″ for any errors in cutting That's not bad at all for $264, which is what the on sale roll, plus shipping and tax ended up being.  That's roughly $13/quilt for the batting.
Because the Hobbs rolls are 96″ wide, I usually use them for the larger quilts that I make.
The two rolls shown in the picture probably have enough for 15 quilts on the bottom roll and 18 quilts on the top roll.
On top of two food storage shelves are more rolls of batting.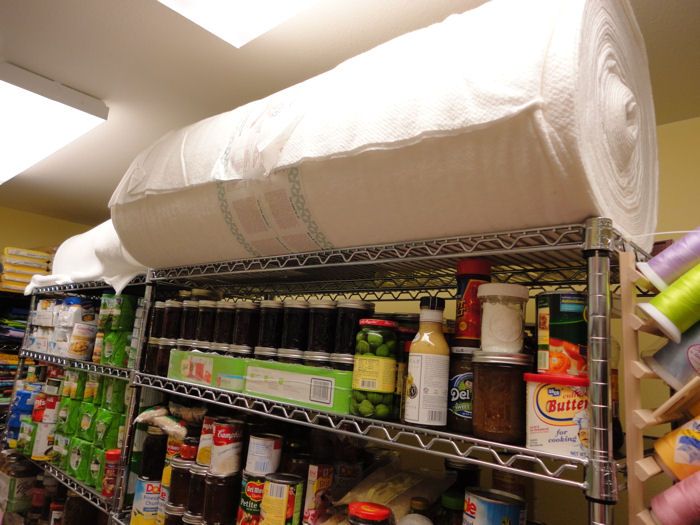 The roll on the far away end is Hobbs Heirloom bleached.  The roll on the closest end is Warm & White.  It's never been opened so there's enough for 20 quilts on that one and probably 10 quilts on the other roll.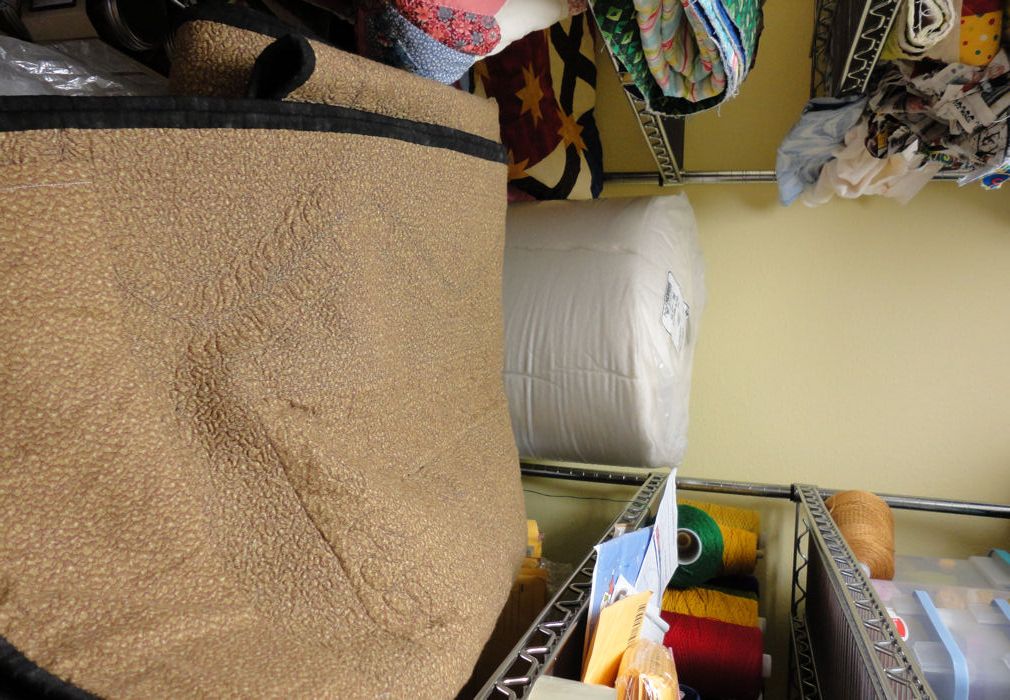 In the quilt storage area is a full never opened roll of Hobbs Heirloom 80/20.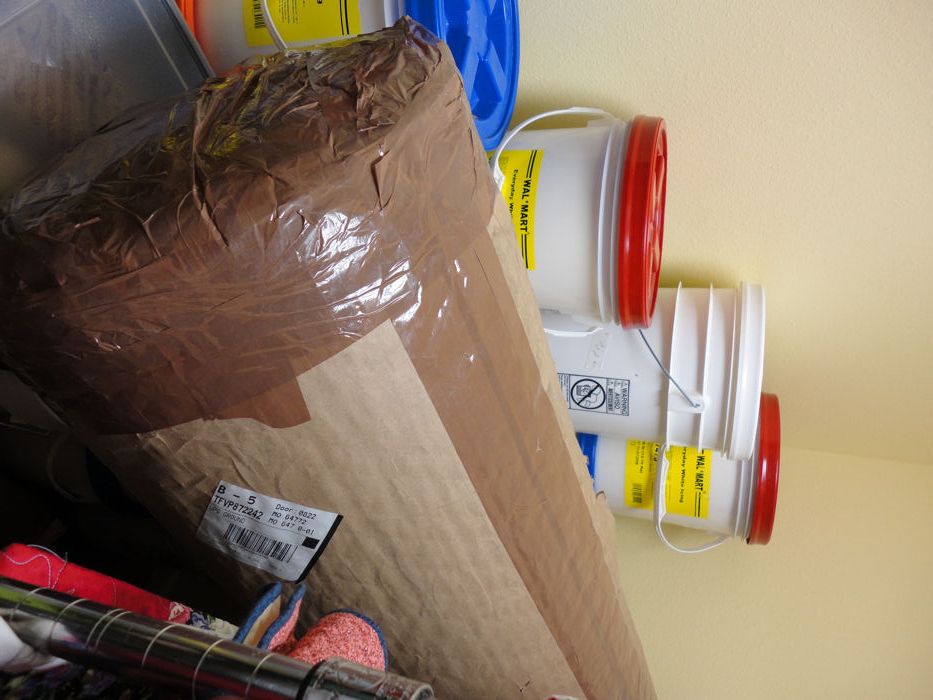 Over by the buckets of food is another unopened roll of Hobbs Heirloom 80/20.  Those are 96″ x 30 yards so I figure I can get 15 QOV size quilts or 12 lager quilts from each of those rolls.
In another corner of a closet are three partial rolls of Hobbs Heirloom 80/20 and Warm & Natural and I figure there's enough for about 15 quilts total from those three rolls.  With another roll of Warm & Natural coming, I figure I have on hand enough batting for about 130 quilts, plus there's probably 20 packages of batting around here.
Unless Vince is offering to pull out his credit card for more batting, I don't think I'll be needing any for a very long time.  A very, very long time.
When we moved from Kentucky, Vince was kinda fussing at the movers because they had assured us they could get everything on one truck and at the last minute, they could not.  The driver looked at Vince and looked at me and snapped "If SHE didn't have 31 rolls of batting, we could have made it with one truck!"   It's always nice to get the blame for whatever goes wrong! 
Now . . if you'll excuse me . . I have batting to use!