Vince should teach classes on bargain shopping.  I honestly have never seen anything like it.  Vince so rarely pays full price for anything.  I hardly ever buy anything other than fabric or yarn because he can get so much better deals than I get and he loves doing it.  I wrote here about a $1,300 dishwasher that he got for less than $500.  Sometimes I almost feel sorry for the retailer by the time Vince makes his final deal!  We're going to need another freezer (two actually) so I mentioned to Vince last night that he should be on the lookout for a bargain for a freezer.  We're in no rush for it but when we find a deal, we'll buy two.  The only problem is that I want big upright freezers that are manual defrost and most stores don't even stock manual defrost freezers so finding a "scratch and dent" model or even a closeout model may not be easy.  If anyone can find it . . Vince can do it!
On almost every item I buy, I have a price point . . a price at which I will buy mega amounts of an item.  When cake mixes are $1 or less, I stock up. (Right now at Kroger!).  Do I use many cake mixes?  No.  About the only time I use them are as the base of other recipes.  This is one of my favorite cakes to make and it starts with a mix.  Sometimes when you just want something sweet but aren't willing to bake something from scratch, a cake mix is so easy and for $1, the price can't be beat.  I think most of the name brand mixes were about $2.25 or more per box so getting those for $1 is a bargain.  When I put the mix in a half gallon jar and vacuum seal it, it's good for 5 or more years . . so obviously the "use by date" doesn't make a whole lot of difference to me . . when the item has been stored properly.
Back to the recent toilet paper purchase . . there are some brands of toilet paper that I will not buy . . I wouldn't even bring home if they were giving them away.  Once I bought a name brand that I thought was good toilet paper and I stocked up . . a lot!  No one else would use it and I was stuck using it for about 2 years.  Every time I would think I had used the last roll, I would uncover another case of it. Now, I'm real picky about the brand of toilet paper that I buy.
A reader left a comment about a blog post, including a spreadsheet that Happy Money Saver had done about the cost/value of toilet paper.  Use the word "spreadsheet" and I'm happy!  I love spreadsheets.  There's interesting info on her spreadsheet and it's worth looking at but it doesn't tell the entire story.  If you really want to find bargains, here's a bit of advice from the wife of the bargain hunter:
Know your price points.  On things you use ever day, whether it's green beans, coffee, Dr. Pepper, toilet paper . . you should know exactly what you feel is a good deal and what you feel is too much.  Any time I find name brand green beans or most any canned veggie for 50¢/can, I'm bringing home a truck load!
Know how much spare cash you have available to spend.  If you find toilet paper on sale for $24/case and that's a good deal and you buy 10 cases but now you don't have the money to pay the electricity bill, you really made a bad decision financially.  If you're putting a good deal on a credit card and paying interest, you've made a bad decision financially.
Know how much storage space you have.  If the toilet paper is going to have to sit out under a tree in the rain with the ants and rats because there's no more room in the house, you just wasted some cash.
This is the bargain Vince found on toilet paper.
If you go to this item now, it's $44.19, plus $7.48 shipping.  This item is #81 on the Happy Money Saver's spreadsheet.  You will see that one year ago, the regular price per double roll at Wal-Mart was 62¢/roll.  The deal Vince found was $22.74 with Subscribe and Save.  There was also a $1 off coupon and if you used MasterCard, you saved an additional 10% which made the cost just a tad over 40¢ per double roll or, 20¢ per single roll.  (My price point on toilet paper used to be 25¢ per single roll but lately, I've been pretty happy to find it for 27¢/roll so you know how happy I am to find it for 20¢/roll.
But, if you do a little research, you will find that Wal-Mart has the same toilet paper for about 50¢ per double roll, along with free shipping.  But, there are some out there who will pay way more just to keep from shopping at Wal-Mart, which I'll never understand but . . to each his own.  Target also has it but they don't have it available online and don't show their price and we don't have a target.
Call me crazy if you wish but we keep at least 500 rolls of toilet paper on hand, and currently because of recent sales, there's plenty more here.  I have some of it stacked floor to ceiling in a closet and it isn't easy for me to get to those cases so I keep several cases within easy reach.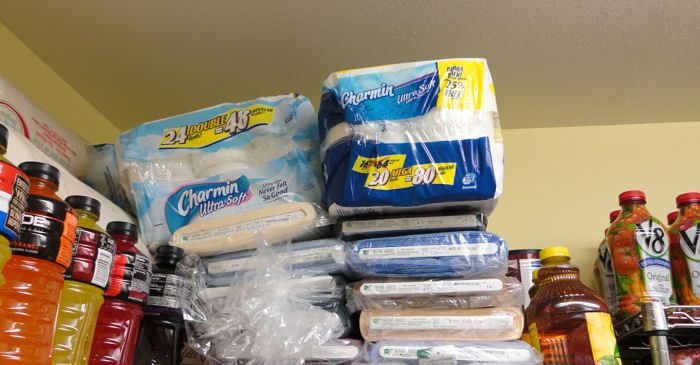 Toilet paper, paper towels, napkins . . we're well stocked!
It's a rare occasion that I buy anything unless it's on sale.  By keeping a good stock of items that were purchased when they were on sale, I never need to buy most things unless they're on sale.
Who would have thought I could have written this much about buying toilet paper?