Having a nice fabric stash makes it so easy when I need to pull fabric for a new quilt.  We do have a local shop about 30 miles from here in Santa Anna and they have a nice selection of fabric.  I could go there and choose fabrics but it's so nice to walk into the closet and get just what I need. Trying to order fabrics that need to be so close in color, and all need to work together would be quite difficult without seeing the actual fabrics.
I didn't pull the browns yet for the chain blocks.
These are the first fabrics I pulled for Nicole's quilt.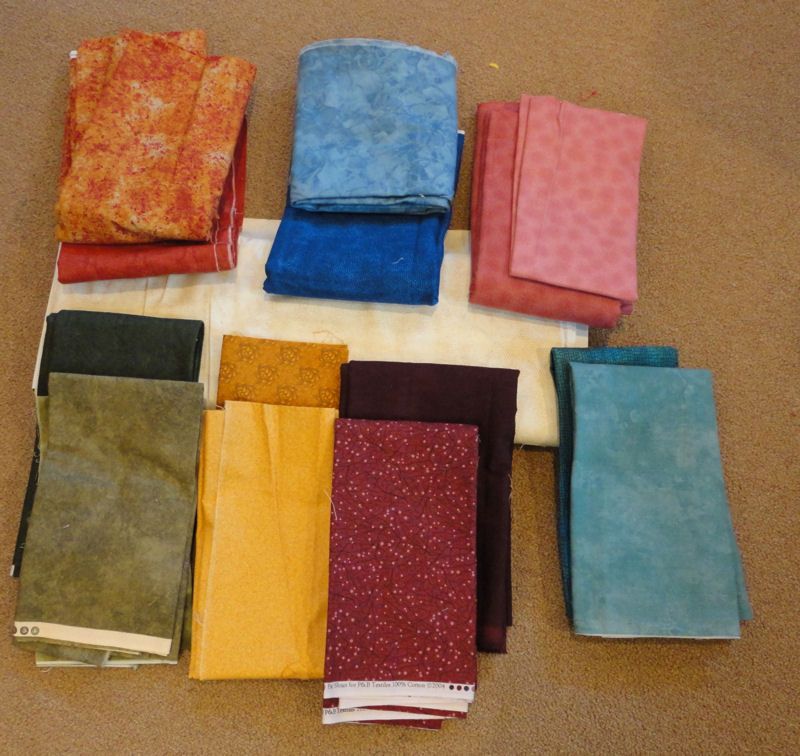 I often use a Ruby Beholder to determine the value of the fabrics I'm thinking of using.  Other times I simply eyeball it but the most valuable tool for me for determining whether colors work is my digital camera.  I seem to be able to see more — whether it's value or even a mistake in piecing, by seeing a photo than by seeing the actual piece.
When looking at the above photo, it was apparent to me that the yellow is brighter than what I want to use in this quilt.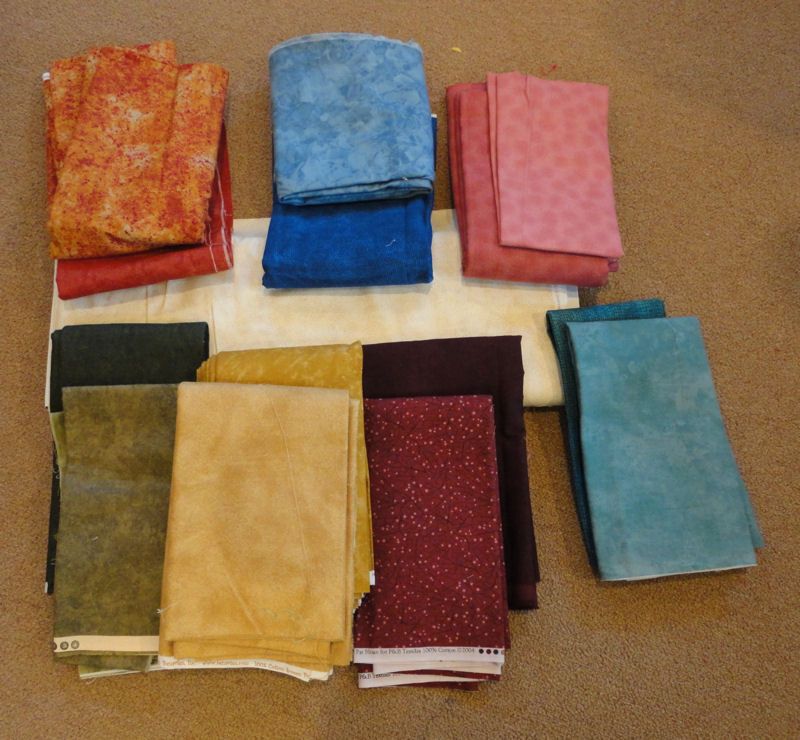 The yellow was changed out and then it seems the blue directly behind it is too bright.
The blues were swapped out and I think I'm happy with the choice.  The cream in the center, which represented the background, has been removed in the bottom photo and seeing the lighter of the yellow/gold fabrics without the background fabric, had me questioning whether it would work but then I realized that it doesn't work with the tan carpet but it works fine with the ecru background fabric.
A whole color scheme can need tweaking when just one color is added.  By removing the ecru background fabric, and just seeing these against the carpet, these fabrics lose their "zing" but when placed back on the background fabric, I love them all.
The fabrics are chosen, the cutting will soon begin.  This quilt needs a name.  Any suggestions?