Thanks to all who answered the sewing room essentials question.  I loved reading your answers!  My original question was because someone just starting to quilt was asking but in this post, I'll include the things most important to me.  Remember that most all I do is a straight stitch and I do absolutely no quilting on my sewing machine.
Many mentioned the ergonomic chair, and that's a great idea but not something I would have thought to include.  I find that when I'm sewing, I'm sitting right on the edge of the seat, mostly hunkered down over my sewing machine but I never seem to sew more than a few minutes at a time.  I'm up to press or up to trim or, up to check something on the computer.  If I sat longer at the machine, or if I had back/shoulder issues,  I would see the benefit of an ergonomic chair.  A good chair is a really good thing to have!
1.  Topping my list of important quilting room items is the sewing machine! Oh, how I love my sewing machine.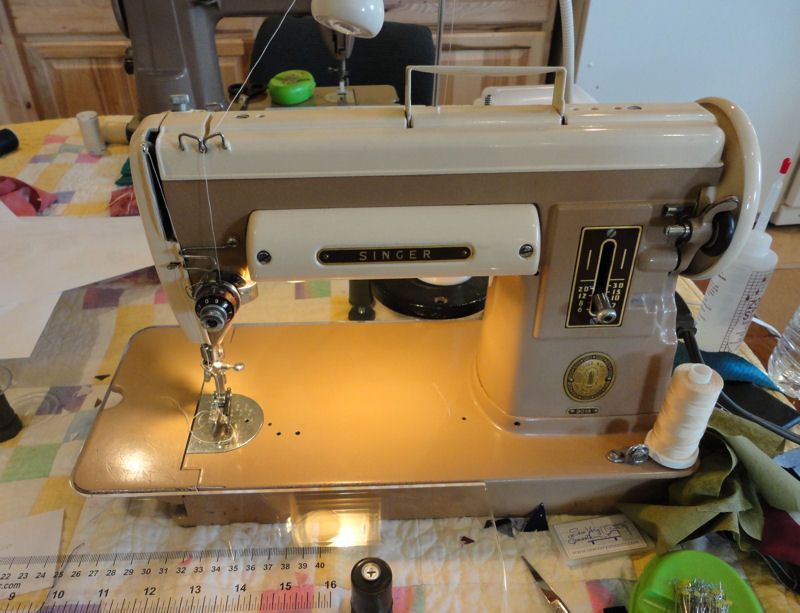 I sew on a Singer 301 from the 50's that I bought at Goodwill for $35, and that included the cabinet and a chair.  I have newer machines, I have three Bernina machines.  The Bernina that I used the most is a 1230 that I bought in 1989.  Don't do what I do but I never once took that machine to the shop for anything until a light switch went out and that was just a couple of years ago.  When I took it to the shop, I ended up buying another Bernina (and I don't even remember what number it is — 430 maybe . . it's packed in a box).  You see why I never go to the Bernina shop?  🙂
I bought the new machine because I love using the Bernina walking foot to attach the binding to the quilts.  I have a walking foot for the Singer 301 but I don't love it so much.  I figured the 1230 wasn't going to last forever and the 430 (if that's the right number) was one of the last Swiss made Berninas so I bought it.
Why do I love the old Singers?  They are all mechanical.  The 301 has no belts — all gear driven.  Anything that goes wrong, Vince can fix.  It makes a perfect stitch.  Did I say how much I love that machine?  Even when I have used the Bernina 1230 for a while, and I like that machine a lot, when I get back to the 301, I'm amazed at what a fantastic machine it is.
It does not have needle up/down but almost subconsciously, I know about how to hit the foot so that the needle stops up almost every time.  If not, I just turn the hand wheel and never notice that it's a problem.
2.  Quarter inch foot – I love the several feet that I use that result in a perfect 1/4″ seam.  There are several ways to get a perfect 1/4″ seam without using a special foot but I find using a foot with a side blade works best for me.
3.  Ironing surface – When I'm sewing in the house, I use a regular ironing board and yes, it works but I love my big ironing table.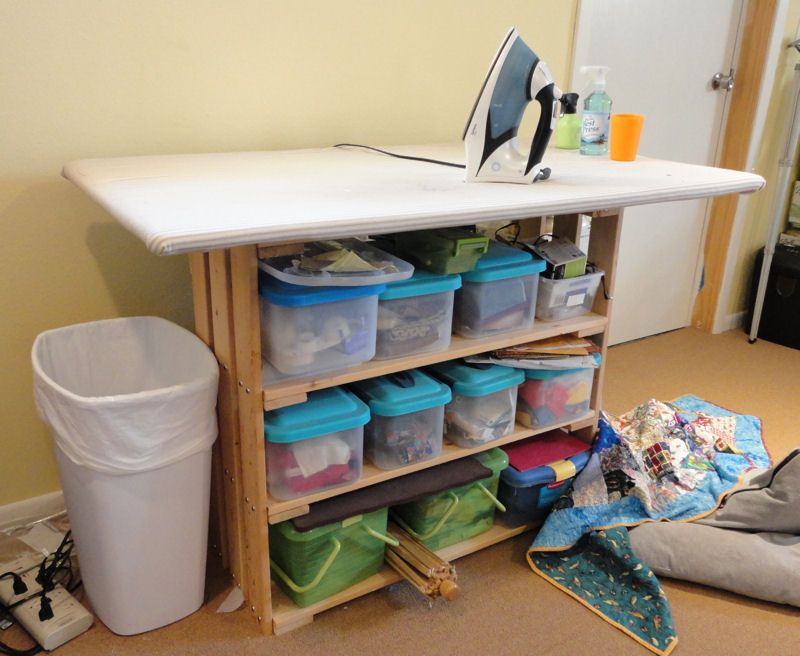 I use a cheap (as in about $20) pine bookcase unit that I bought at Lowe's about 10 years ago.  I couldn't see wasting all that space underneath the ironing table so I love having the shelves.  I had a sheet of plywood cut (in half maybe) and Vince drilled some holes in the wood and in the top of the shelf unit so the plywood screws on.  I covered it with several layers of Warm & Natural batting and then cover it with whatever I can find. I have ticking stripe on it now.  When we move, the top has to come off so I change out the cover when we move. I pull the fabric over the board and use a staple gun to attach it.
4.  Good lighting – I'm not sure I could ever install the perfect lighting for every situation.  When I'm piecing, I seem to need the light shining on a different spot than when I'm binding.  I like having good lighting over my cutting table but for sewing, I count on having good lights around the sewing machine.  I have Ott floor lamps and Ott desk lamps but my current favorite is a bendable light.  It's an Ikea product but I ordered mine from Amazon.
5.  Cutting tables – I have two cutting tables.  One is the one I bought when I got my Bernina in 1989.
It's 72″ x 40″ and is about 35″ tall.  I use it mostly for cutting large pieces of fabric, border work, and trimming the quilts for binding.  Even though it folds and can be configured to be smaller, I had a long, narrow space in MO where I had to stick the cutting table so I ended up buying a workbench from Sam's Club and using it for my cutting table.
It's about 72″ x 20″ and is almost 38″ tall.  I love it for trimming and for marking quilts.  I'm glad I have enough room to keep both of these tables set up.
6.  Design wall – mine is nothing fancy.  I tacked a piece of fluffy poly batting on the wall and pinned flannel over that.  It makes such a difference being able to see things from this angle vs. looking at them on the floor or on the bed.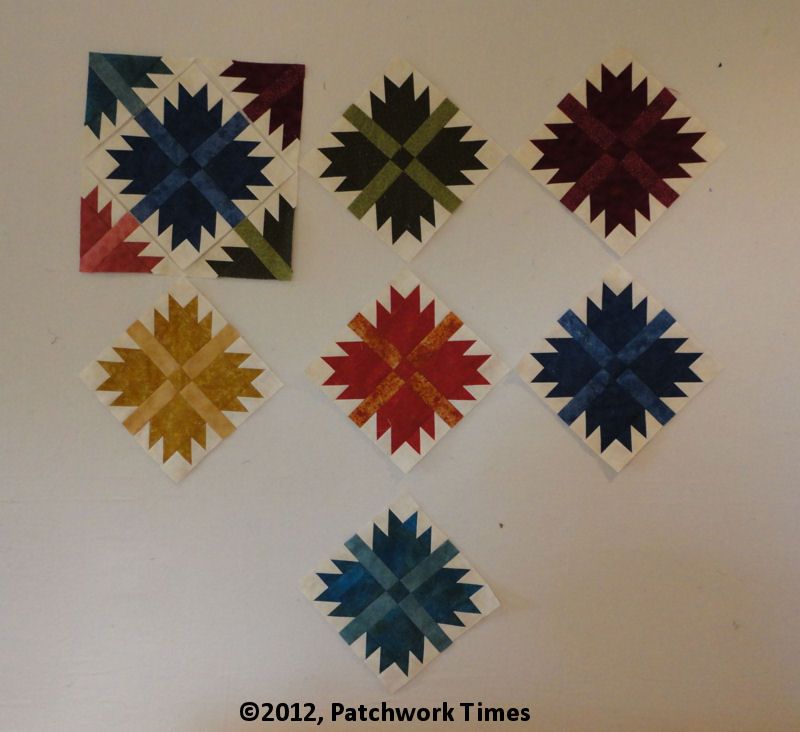 7.  Pegboard!  I am so happy to have a sheet of pegboard.
It's so easy to keep my rulers organized and know where they are.  There's probably a whole lot more things I should get hung up on that board and just haven't done it yet.
Other things that matter to me:
Lots of trash cans.  I have 7 or 8 tall kitchen cans around the room.  If there's a trash can within reach, I'm a whole lot more likely to drop trash into them.
Inexpensive vacuum cleaner.  I've never used my good vacuum cleaners in the sewing room.  Too many pins and threads on the floor.  I think my current sewing room vac was less than $40 at Wal-Mart.  It works and when it no longer works, it goes into the trash and I buy another one.
Music.  I have Sirius satellite radio in the sewing room.  Every now and then it's on some talk radio channel but mostly it's on old country (Willie's Place) or old gospel (Enlighten).
Electric Quilt.  I'm not sure what I would do without it.  I'm so dependent on it for my quilting.
Rulers, mats and rotary cutter.  I love the Creative Grids rulers.  It's important to keep good, sharp blades in the cutter.  I don't change mine often (maybe not even once a year) but when it begins to get dull, it's nice to have a fresh blade.  Mats can get cut up and even the self-healing mats need replacing from time to time.
Good company!
Speck is especially happy when he finds a little patch of sunshine!  🙂
And my last piece of advice, especially for a new quilter . . don't go hog wild buying fabric til you know what you truly love.  In the beginning, I bought lots of everything and soon learned that I mostly like tone on tone fabrics and some fabric textures I don't like using.  Having a big stash is great but it's better to have a stash of fabrics that you love to use and not just a lot of this and a lot of that which may not be your favorites.