No matter where you live, there are nosey neighbors.  Don't you hate that?  Folks move out in the country to get away from spies.  My neighbors have lots of land . . they deserve some privacy . . til Judy moves in across the highway and she always has her camera or her phone with her!  🙂
Yesterday we walked up to look at the gate.  We haven't put any "decorations" on it yet but we have found a guy who will cut a design for us so eventually, we'll get it looking snazzy.  For now, it's what the gate builder could build quickly.  Notice it's held shut with a rope.  The "board" was bad in the gate opener and the new one should arrive today.  Getting this gate installed has been quite an ordeal!
But, while looking at the gate, we noticed that across the highway, the neighbors were trying to convince their cows to move into a new pasture.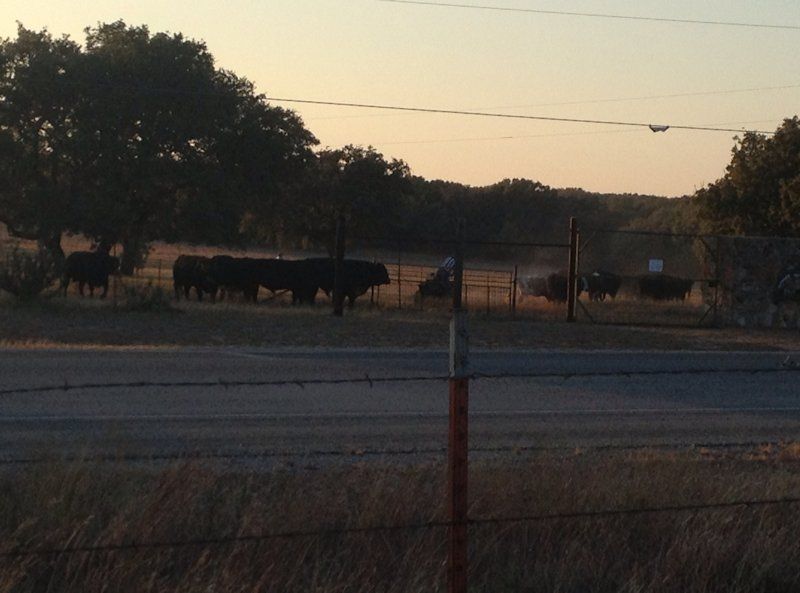 I can tell just from peeking through the fence that herding cows might be a little more work, and maybe a little more dangerous than herding chickens!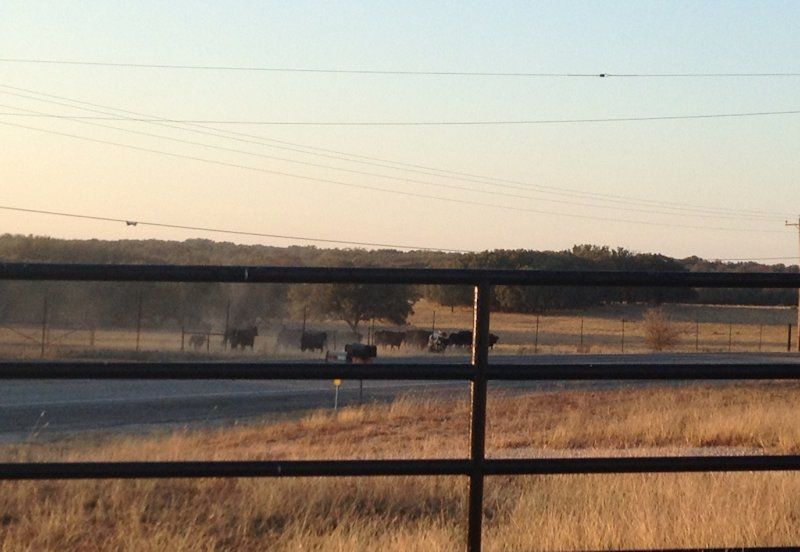 I said to Vince . . "Hurry!  Let's run back home!  Quick!"  He wanted to know what was the hurry and I told him that I wanted to get the RTV and go help them!  No way!!
And, I think he took the RTV keys and hid them.  Oh well . . I guess I can always help herd cows in the Highlander.  🙂
Seriously, I felt like I was sitting in the movie theater watching an old western movie on TV where the cowboys were rounding up the cattle except the cowboys across the highway gave up their horses and uses four wheelers these days.  Guess we didn't see too many four wheelers in the John Wayne movies, did we?
Texas is so fun . . even if I have to hide behind the fence and watch the action and I don't get to help with getting the cows to the other pasture.  Maybe next time . .