It feels good to be chomping at the bit to get into the sewing room.  I hadn't felt that in a while.  Maybe it has to do with the fact that it's freezing outside and working in the garden isn't an option, nor is sitting outside watching the chickens do their little chicken antics.
This is what greeted me on the design wall when I walked into the sewing room very early this morning.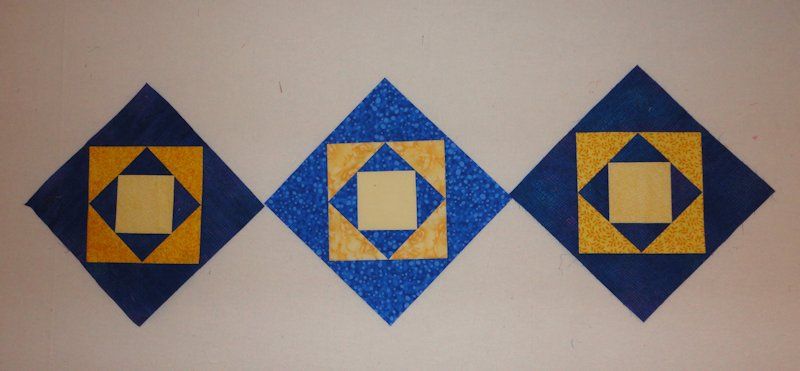 Yesterday morning before we left home, I was able to get a second block done and when we got in last night, I was able to get another one done.
I'm surprised at how little cobalt blue fabric is in my stash.  Strange as it may sound, there's very little blue in the stash and by the time you divide it into light blue, gray blue, purple blue, navy blue, cobalt blue and whatever other blues there may be, there's just not much of any one shade of blue.  I spent a little time at Fat Quarter Shop and completely confused myself and gave up.  Just seeing all the fabrics with designs kinda sends my brain into a tailspin.  Some day I may learn to use fabrics other than tone on tone but today is not the day.
Twelve of these "Twelve Triangles" blocks are needed.  That's a coincidence . . 12 "Twelve Triangles" blocks. Sure would be nice to end this day with all 12 of them made.  If nothing else, I am optimistic!