The twelve center blocks for Nicole's mom's quilt are made.  If I have time this evening, I'll come back to the sewing room and make the corner blocks and start on the setting triangle blocks.  Do you see a bit of scrappy in there?  Each block has the same blue but two different yellows.  There are two or three blocks made using each blue and I think I used four or five different yellows.  That's real scrappy for me!
These blocks obviously went together very quickly.  Working with triangles with bias edges can be a bit tedious but I did the majority of these with paper piecing.  The blocks will finish at 10″ and since regular printer paper is only 8-1/2″ wide, the easiest thing to do was to print all but the outer round on regular paper and then add those outer four triangles using traditional piecing.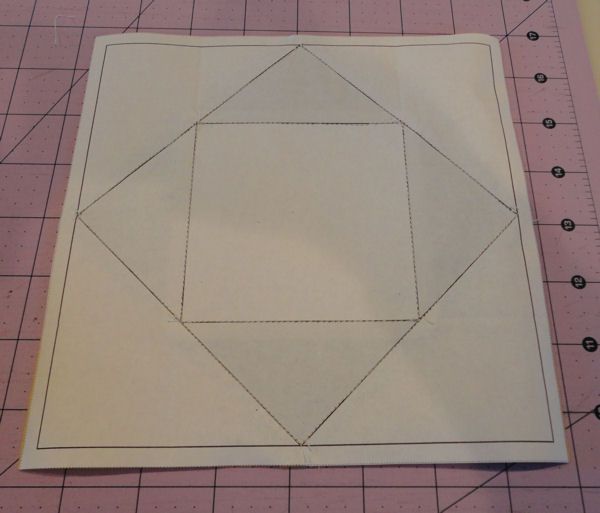 This is the back side of a block that's been done as far as I can go with the paper piecing.
Above is the front side.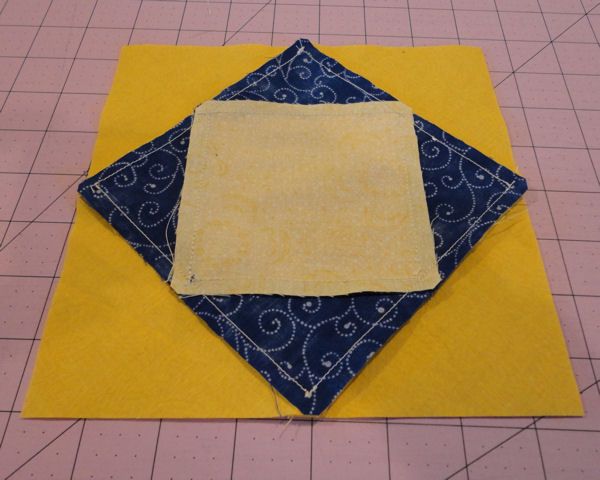 The paper was removed.
The squares for the outer triangles were cut a bit larger so I wasn't having to fuss with the pieces. The resulting block was oversized and needed trimming.
Once the block is trimmed to 10-1/2″, it's perfect!  Or  . . as close to perfect as it needs to be for me.