For a while, I've been wanting a kamado type grill. The best known is probably the Big Green Egg. It's definitely nice . . like the Cadillac of kamado grills, but it's expensive and most of the accessories must be purchased separately.  Since I'm more of a Honda kinda of girl, instead of a Cadillac girl, we shopped around and checked out everything we could find and read all the reviews, made a few phone calls and made a decision. As I mentioned Monday, we would have to pick it up in Abilene and bring it home and it probably will not fit in the Highlander and if it does, it's the ONLY thing that would fit so it would mean driving 2 hours, getting the grill and driving back. In addition to the Big Green Egg, we considered the Primo, Kamado Joe, the Vision Pro and the Bayou Classic.
We went with the Vision Pro.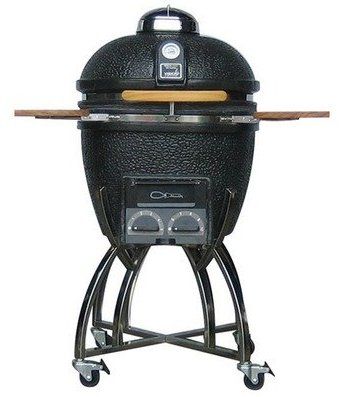 The main reasons we went with the Vision Pro were (1) Everything we read talked about their customer service being amazing. (2) Home Depot will deliver it to our home and we don't have to mess with picking it up anywhere. (3) It comes with almost all the accessories we would want . . all included in the price.
We did see some complaints about the Vision Pro having some air leaks around an opening where the electric starter can be inserted. This can cause a problem when trying to cook "low and slow". There were a couple of fixes listed that Vince could easily do but since we have our Cookshack smoker that is so easy to use and works so well, I doubt we ever use the Vision Pro for smoking anything. I mainly wanted it for bread and pizza and cooking at the temps needed for those items, a bit of air leaking isn't going to be a problem for us.
We've ordered the lump charcoal and will be ready to make bread and pizza as soon as the grill is delivered and set up . . in a week or so.
You know I'll be posting about our experiences with the new grill.