Months and months ago . . maybe over a year ago, I did a giveaway and the prize was one of my quilts.  A reader, Ila, won the quilt.  At the time, most everything was packed so I wrote her that I would get back with her "soon".
Then we moved and had to have the sewing room built and things were still packed. Then there was the retreat in February and then one thing after another and I told myself that I was not going to let 2012 end without me getting a quilt to Ila.
Yesterday I grabbed a few quilts and sent pictures to Ila to choose which one she wanted.
Option #1:
This one is smaller, bright and batiks.  I couldn't measure them before sending her pictures because I had been out helping Vince and had paint on my hands.  Add more points for me in that "good wife" competition!  🙂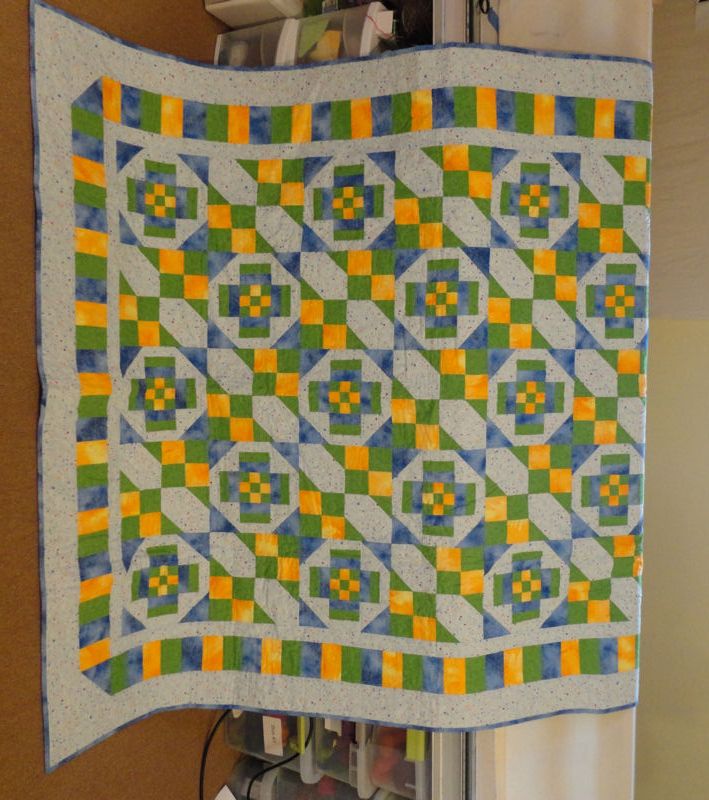 This one is a little larger than the first one . . probably twin size.
This quilt is in my first book, Nine Patch Extravaganza.  Ila has the book and said she actually has this quilt marked to make some day so this is the one she chose.  Today I will get it boxed up, and get it in the mail to her.  I'm thankful that Ila is a patient lady and I'm sorry I took so long to get this too her but at least it's a quilt she will like and now she will have one and will not have to make it herself.