The first fresh, white snow of the season is always so exciting and so beautiful and makes me want to hug Mother Nature's neck for her glorious display.  For those who live up north and are sick of it already, you're probably shaking your head in disbelief that anyone could be excited about snow but for us, it will be gone by noon – no shoveling, no slipping and falling — no hassle.
Before we moved here, if anyone had asked me if this area ever got snow, I would have answered with an emphatic NO but, last year we had a few flakes too.
I tried to stay awake last night waiting for the snow to arrive.  The weather folks said it would be here late but I gave up and went to bed without seeing any snow.  Several times during the night I got up to look out to see if we had snow and we didn't so I figured it had passed us by but then when we woke up, we had snow!
There's a couple of inches on the ground.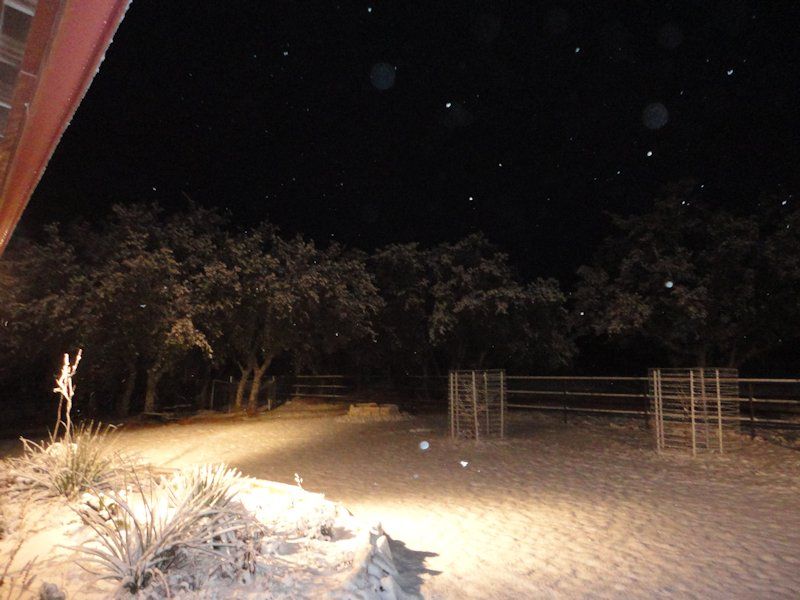 By daylight, the snow had stopped.  The chickens were a bit apprehensive about emerging from the coop.
The chickens are so "chicken".  They usually come bounding out of the coop in the mornings but they were not quite sure about the white stuff.
I must say they're braver than the MO chickens.  They wouldn't come out of the coop any time there was snow on the ground.
It's nice that I get to stay home and look out the window at the pretty snow but . . Vince had to go to work!
Not sure how the garden fencing will look when the snow melts but it doesn't look so good now.  I think our PVC pipe in MO must have been heavy duty because we got way more snow there and I don't remember the fence looking like this.
One last pretty picture!
The really good news is . . it's a little bit of moisture that we so desperately need.